Jigsaw Puzzle Storage With Drawers
Jigsaw Puzzle storage with drawers or with sort trays are the most wonderful way to work a jigsaw puzzle. I used to have to pick up all my puzzle pieces and put them  back in the box and carefully slide my partially completed puzzle off onto a piece of cardboard so I could hopefully come back to the puzzle at a later time. Very frustrating. There are wonderful puzzle protectors that will make your jigsaw life easier. A portable jigsaw puzzle table allows you to leave your puzzle and have it exactly how you left it when you came back.   The jigsaw puzzle boards offer a puzzle piece organizer that allows you to sort your pieces however you like.  All in all you will never be frustrating by puzzles again, you will always look forward to having those spare moments filled with satisfying puzzle assembly.
I have several different portable options for jigsaw puzzle storage with drawers and without drawers.  Check them out, see what might work for you.
In A Hurry? Click Here to see some great options for portable jigsaw puzzle boards
  Puzzle Piece Organizer and Puzzle Protector 
Portable Jigsaw Puzzle Table From Etsy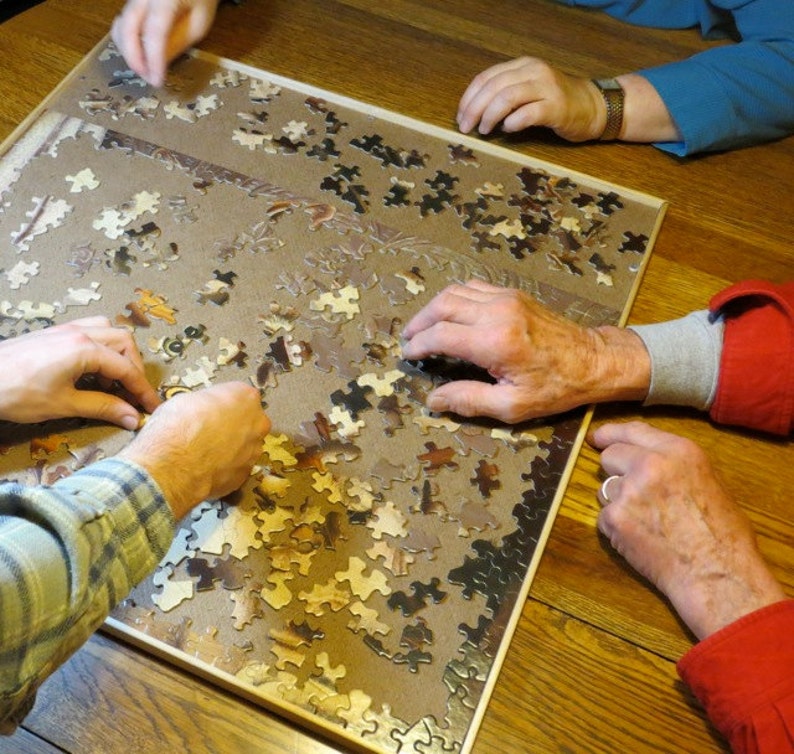 Large Puzzle Boards. Jigsaw Vertical Storage Caddy 500 Piece Wood Frame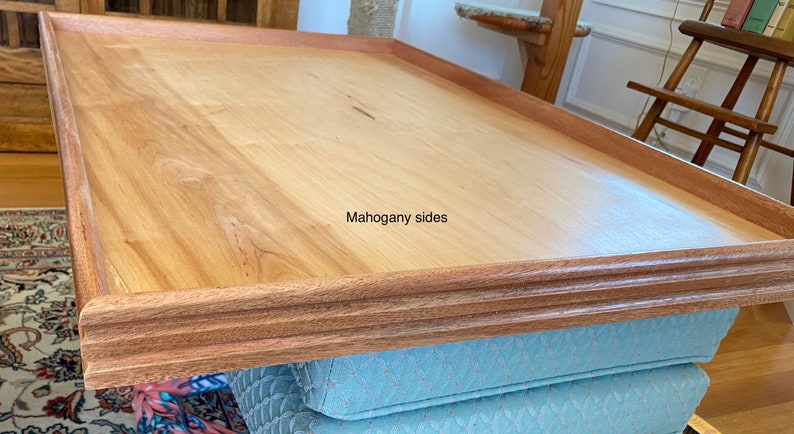 Puzzle board, large;Mahogany Sides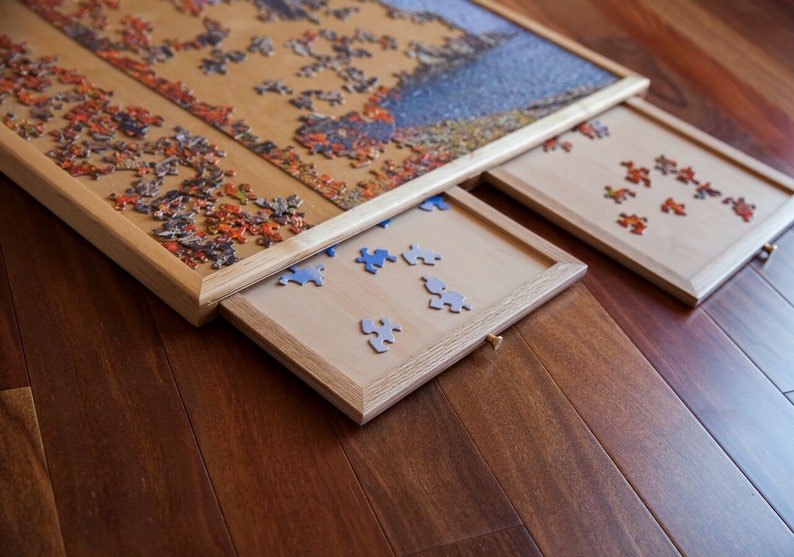 Large Puzzle Board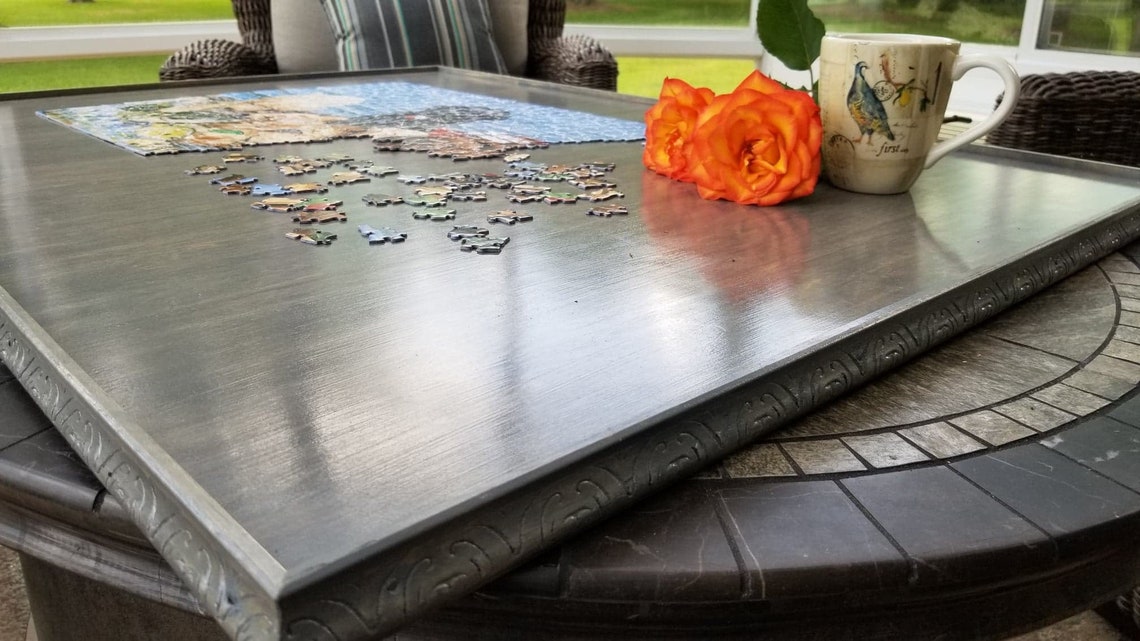 Jigsaw Puzzle Board for 1000 – 2000 Piece Puzzles
&
Puzzle Master Has Jigsaw Puzzle Storage with Drawers and Sort Trays
Unique and interesting ways to keep your jigsaw puzzle in one place. Very portable and very tidy with different separations to keep your puzzle pieces stationery and stable. Great solution to an irritating problem.
Portapuzzle for 1500 pcs puzzles
Portapuzzle Deluxe for 1000 pcs puzzles
Puzzle Store – for up to 1000 pcs puzzles
Portapuzzle for 1000 pcs puzzles
&
Jigthings JigSort 500 Perfect Solution For A Jigsaw Puzzle Storage
A beautiful and terrific solution to all your jigsaw puzzles storage. This puzzle storage unit can hold up to 500 puzzle pieces, the puzzle can be 20.5 by 15.5 inches, that is a pretty big puzzle. And definitely not one you are going to want to put up and take down every time you have to stop for the day. Coming back to it would be overwhelming and who would want to do it anyway.
This system is easy to pack away a partially assembled jigsaw puzzle. There is a separate tray that is easy to move from place to place. There are two sorting trays so you can put your different color pieces or edge pieces or however you like to work a puzzle. And the whole thing is in a beautiful stylish zip up outer case which make the puzzle the ultimate portable and fun to think about coming back to.
jigthings JIGSORT 500 – Jigsaw Puzzle case for up to 500 Pieces
Many More Beautiful and Inexpensive Puzzle Pieces Roll Up Protectors and Keeps Puzzle Sorted
Lavievert Black Felt Mat for Puzzle Storage Puzzles Saver, Long Box Package, No Folded Creases, Environmentally Friendly
Puzzle Mat Roll up Jigsaw Puzzle Pad Puzzle Storage Felt Mat Puzzles Saver (35.6
Puzzle Mat Roll Up for Jigsaw Puzzles Upto 1500 Pcs, Jigsaw Puzzles Roll Up Mat with Inflatable Tube+Mini Pump+Felt Mat+3 Elastic Fasteners+Drawstring Storage Bag, Holds 300 500 700 1000 1500 Pieces
GRATEFUL HOUSE Premium Wool Blend ROLL UP Puzzle MATS for Jigsaw Puzzles. Wool Felt lays Perfectly Flat Comes Rolled & not Folded. Fits 500 1000 1500 Piece Jigsaw Puzzles. Purple 46 x 26 inches
D-FantiX Jigsaw Puzzle Mat Roll Up, Puzzle Saver Store 500 1000 1500 Pieces Felt Puzzle Mat with Inflatable Tube, 3 Elastic Fasteners , Bonus Premium Pump and Storage Bag Grey 41 x 30 Inch
Jigsaw Puzzle Mat Roll Up – 1000 Pieces and 1500 Pieces Saver Large Puzzles Board for Adults Kids, Storage and Transport Premium Pump Puzzle Glue Puzzles Felt Mat Inflatable Tube
Puzzle Mat, Uiong Puzzle Storage Pad & Jigsaw Puzzle Roll Mat Roll up to 1500 Piece, Including 46 X 24 Inch Felt Mat, Inflatable Tube, Mini Pump, Drawstring Storage Bag and 3 Elastic Fasteners
Puzzle Sorting Trays 6 Pcs with Puzzle Mat Roll Up, Puzzle Accessories for Jigsaw Puzzles Up to 1500 Pieces, Sturdy Sorter & Easy Storage for Next Play, for Puzzle Lover Kids Adults
&
Beautiful and Affordable Wooden Puzzle Organizers with Drawers
Jumbl Puzzle Board | 27" x 35" Wooden Jigsaw Puzzle Table w/Smooth Plateau Work Surface, 6 Storage & Sorting Drawers & Reinforced Hardwood Construction for Standard Games & Puzzles Up to 1,500 Pieces
Lavievert Jigsaw Puzzle Table Puzzle Plateau Puzzle Board with Four Sliding Drawers & Puzzle Mat Set for up to 1,500 Pieces
ATDAWN Wooden Puzzle Table, Jigsaw Puzzle Table, Puzzle Plateau-Smooth Fiberboard Work Surface, with Five Sliding Drawers, Puzzle Accessories for 1000 Pcs
Lavievert Wooden Jigsaw Puzzle Table Puzzle Plateau Puzzle Board with Four Sliding Drawers for up to 1,000 Pieces
Bits and Pieces –Original Standard Wooden Jigsaw Puzzle Plateau-The Complete Puzzle Storage System
And These Lovely Puzzle Protectors and Transporters are Great for Yourself or as a Gift
Lavievert Oxford Cloth Jigsaw Puzzle Case Puzzle Storage for Up to 1,500 Pieces – Blue
Jigsaw Puzzle case Puzzle Board- Ingooood Easy Move Storage Jigsaw Puzzle mat Work Separate Puzzle Board for up to 1,000 Pieces Durable jigboard
Becko Jigsaw Puzzle Board Portable Puzzle Case Puzzle Storage Puzzle Saver, Non-Slip Surface, for Up to 1000 Pieces (Dark Blue & Khaki)
Portapuzzle Deluxe 1000 (Jigsaw Puzzle Accessory)
Jigitz Jigsaw Puzzle Case – 1500 Piece Puzzle Caddy Portable Puzzle Storage Case with Handles and Sorting Trays
Becko Jigsaw Puzzle Board Portable Puzzle Mat for Puzzle Storage Puzzle Saver, Non-Slip Surface, Up to 1000 Pieces (Blue/Khaki)
Take A look At This
You May Also Be Interested In This
Norman Rockwell Puzzles – Jigsaw Puzzles
&

Haven't Found What You Were Looking for? Search Again Here:
Use Our Free Gift Finding Tool Below: