Portable Jigsaw Puzzle Boards
Portable Jigsaw Puzzle Boards are the most wonderful way to work a jigsaw puzzle. I used to have to pick up all my puzzle pieces and put them  back in the box and carefully slide my partially completed puzzle off onto a piece of cardboard so I could hopefully come back to the puzzle at a later time. And when I came back to the puzzle I would have to set up all the pieces again and usually have to reassemble some of the jigsaw puzzle that I had already completed. After a couple hours, I'd have to put it all away again because I didn't have a designated area for my puzzle working. I have to tell you it would discourage me from wanting to work my puzzles. And if you are a jigsaw puzzle worker I know you know what I am talking about.
But there is a solution to this puzzle disrupting problem. Portable jigsaw puzzle boards! You set your puzzle up once and then that's it until you are finished. They are portable, so you can pick the whole thing up move it somewhere out of the way and when you come back to it, take up right where you left off. No re-setting up, no frustration, no discouragement. It is wonderful.
I have several different portable options for jigsaw puzzle boards. Check them out, see what might work for you.
In A Hurry? Click Here to see some great options for portable jigsaw puzzle boards
Some Great Choices For Jigsaw Puzzle Boards
Great Handmade Jigsaw Puzzle Boards Portable From Etsy
 1000 Jigsaw Puzzle Board 30×24 Wood Vertical Piece Storage Portable Frame
&
Puzzle Piece Board System Table Frame Accessories Sort Trays 24×24 in.
Board Game Gift Organize Jigsaw Puzzle Storage Holder 24×24 Wood Caddy Case
Wooden Jigsaw Puzzle Board Jigsaw Puzzle Boards Natural Handmade Portable Holder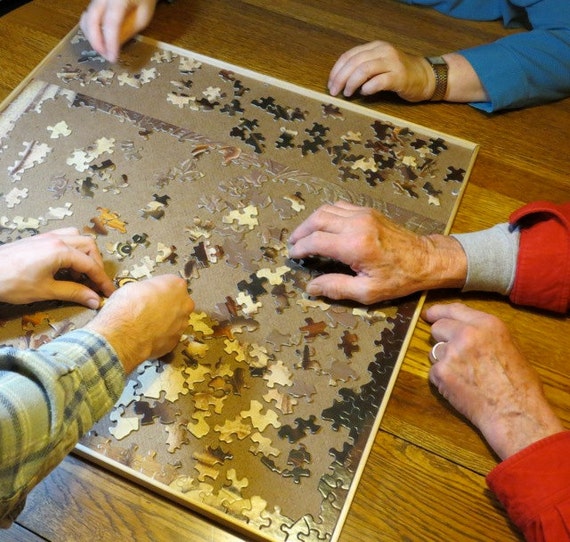 Jigsaw Puzzle Storage Mat – Puzzle Board Alternative!
&
Beautiful Portable Jigsaw Puzzle Board
Puzzle Master Has Everything Jigsaw Puzzle
Unique and interesting ways to keep your jigsaw puzzle in one place. Very portable and very tidy with different separations to keep your puzzle pieces stationery and stable. Great solution to an irritating problem.
Portapuzzle for 1500 pcs puzzles
Portapuzzle Deluxe for 1000 pcs puzzles
Puzzle Store – for up to 1000 pcs puzzles
Portapuzzle for 1000 pcs puzzles
&
Top Rated JigSort 1500 Perfect Solution For A Jigsaw Puzzle Storage
A beautiful and terrific solution to all your jigsaw puzzles storage. This puzzle storage unit can hold up to 1500 puzzle pieces, the puzzle can be 36 x 26 inches, that is a pretty big puzzle. And definitely not one you are going to want to put up and take down every time you have to stop for the day. Coming back to it would be overwhelming to even think about having to set it all up again because you have a few minutes to work on your puzzle.
This system is easy to pack away a partially assembled jigsaw puzzle. There is a separate tray that is easy to move from place to place. There are four sorting trays so you can put you different color pieces or edge pieces or however you like to work a puzzle. And the whole thing is in a beautiful stylish zip up outer case which make the puzzle the ultimate portable and fun to think about coming back to.
This is top rated, scroll down below the pictures and read the reviews. This is a keeper.
 JIGSORT 1500 – Jigsaw puzzle case for up to 1,500 pieces from Jigthings
&
&
CERTAIN CONTENT THAT APPEARS ON THIS SITE COMES FROM AMAZON SERVICES LLC. THIS CONTENT IS PROVIDED 'AS IS' AND IS SUBJECT TO CHANGE OR REMOVAL AT ANY TIME.
Many More Beautiful Jigsaw Puzzle Storage Board Solutions
JIGBOARD 1500 – Jigsaw puzzle board for up to 1,500 pieces from Jigthings
JIGBOARD 1000 – Jigsaw puzzle board for up to 1,000 pieces from Jigthings
JIGSORT 1000 – Jigsaw puzzle case for up to 1,000 pieces from Jigthings
Lavievert Jigsaw Puzzle Roll Mat Puzzle Storage Mat Felt Mat, Long Box Package, Jigroll Up To 1,500 Pieces – Comes with A Drawstring Opening 
Lavievert Black Felt Mat for Puzzle Storage Puzzles Saver, Long Box Package, No Folded Creases, Environmentally Friendly
Frealm Felt Puzzle Mat Puzzles Storage Saver Jigsaw Puzzle Playmat – with Poster Telescoping Drawing Tube Package, Up to 1500psc
Puzzle Snug Puzzle Storage for Upto 2000 Pieces
&
Take A look At This
Portable Jigsaw Puzzle Boards On eBay
eBay Feeds for WordPress
by
Winwar Media
You May Also Be Interested In This
Norman Rockwell Puzzles – Jigsaw Puzzles
&
Haven't Found What You Were Looking for? Search Again Here:
Use Our Free Gift Finding Tool Below: