Yarn Bowls For Knitting – What Are They?
Yarn Bowls for Knitting have become very popular among knitters or even crocheters. If you love crafting with yarn, you know how easily it can become a tangled mess. Depending on the quality of the yarn the rolling of the yarn into the ball you are used to buying in the store is also iffy as to whether the ball will unwind as you work on your project. Or will it become a knotted nightmare that will rob you of the time you had for knitting or crocheting or whatever you enjoy doing with yarn because you had to stop and pick out those evil yarn knots
In a hurry? Click Here to browse the best prices for Yarn Bowls For Knitting
 Beautiful and creative Yarn Bowls For Knitting Good Amazon Star Rating
Here are some gorgeous choices for knitting bowls. These are pottery and ceramic. The color choices are so beautiful. I love the shine on these bowls. And these are bowls of different sizes. Some are made for only one ball of yarn, and some are larger, it is entirely up to your preference. I personally like a deep bowl with a good loop on the yarn tail so it is nicely secured. Just have a look at these really pretty ones.
These are hand crafted ceramic large yarn bowls for holding your knitting yarn. The yarn threads through the kitty's mouth, and as you knit the yarn pulls through the hole keeping it under control and the ball of yarn can unravel inside the bowl without rolling all over the floor.
These are hand made one at a time so no two will be identical. They are about five by six inches. They come in the colors shown, white, yellow and cream.
(You Can Get This Yarn Bowl Ceramic at Etsy.com )
 Yarn bowl – Knitting Bowl – Large yarn Holder with Cute Cat Face
&
FYI: All images on this page are "clickable".  If there is anything that interests you and you would like more information, or to read reviews or check pricing or whatever, just click the image. We have tried to make it as easy and quick as possible to meet your needs.
If you are a collector of all things frogs, then a yarn bowl with a cute frog hanging on the side could be for you. Or if you know a knitter, whether frogs is their thing or not, would appreciate this handy tool for all knitters. Enjoy this one. I know our readers do.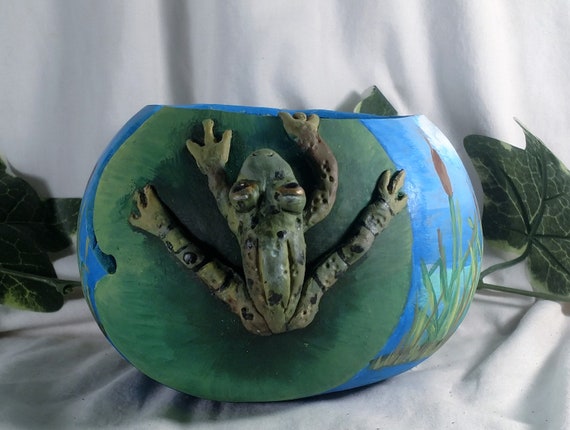 Hang In There! Frog Gourd Yarn Knitters Bowl

A wooden yarn bowl from Amazon may be the way to go for you. They have outstanding quality and you really would be hard pressed to beat the prices. And many many craftsmen sell their products on Amazon so you have a well rounded market to shop from. As for a wooden yarn bowl Amazon has a huge selection. But I did choose this yarn bowl as particularly well crafted. I love the look of the wood and the natural appearance shining through. Really nice depth of the yarn tail holder and the two needle holder holes would fit about any set of knitting needles. I think it's beautiful, what do you think?
(You Can Get this particular Wooden Yarn Bowl at Amazon.com)
&
Yarn Bowl for Crochet by Laborwood | Large Size Wooden Knitting Bowl 7"x4" inch | Handmade Heavy Cat Yarn Bowl Wood | Must Have Wooden Knitting Bowls | Set of 3 Gifts Bonus | Best Gift Ever (Chestnut)
$49.99
out of stock

Free shipping
as of September 18, 2019 1:19 am
Features
EXTRA LARGE. Laborwood yarn holder bowl dimensions impress - 7"x7"x4". Due to large size and silicone self-adhesive stickers the yarn holder for crochet stays immovable while knitting. Otherwise, it is portable and lightweight - you may easily take it wherever you go
PREMIUM QUALITY. Each product is made of durable EUROPEAN ASH-TREE and covered with a layer of safety finish. This wood yarn bowl is the complete handwork made by magic touch of our craftsmen. Our wooden yarn bowls are created to hold PREMIUM position among knitting bowls. LONGTERM WARRANTY - We will give a full refund for your purchase with no questions asked
GET FREE BONUS. We are happy to present you small but very neat and useful gifts in every box. Hope, you will enjoy it. Package contents sewing needles, stitch markers and knitting counter
PRACTICAL. Keeps your yarn clean and fixed, regulates necessary tension while you crochet or knit. The holes hold a pair of knitting needles. Also this wonder knit bowl protects yarn from naughty and playful cats
BEST GIFT EVER. Exclusive product design will not leave you untouched. It`s a great gift for crocheter, for women, for mom, for her - knitting hobby lovers. Besides, our crochet bowl is packed in a very nice presentable box. It is a pleasure to give or receive such a gift
Beautiful Rustic Yarn Bowl Just Added To My Wish List
The Potters, LTD #YarnBowl, Weathered Blue by The Potters, LTD for $44.00 https://t.co/2YtBB5PLRL via @amazon On my wish list for sure

— Susan Kaul (@nightbear) April 13, 2016
There seems to be a lot of interest in Elephant Yarn Bowls, but despite their popularity there are not a wide variety of choices to pick from. I've searched several times and although I find some I am not struck with any in particular. But I did find this beautiful Elephant yarn bowl. I think it is adorable.
Handcrafted by an artisan at Etsy  This yarn bowl is a very pretty, unique and as functional as any other yarn bowl. I think you'll like it, I do.
(You can get this Elephant Yarn Bowl At Etsy.com)
 Yarn Bowl, Elephant motif, Stoneware, High Fired, One of a Kind
&
Beautiful Extra Large Yarn Bowl 
Hagestad Yarn Bowl -8"x4" Rosewood Wooden with Free Travel Pouch & 2 Wooden Crochet Hooks. Extra Large. Perfect for Knitting & Crocheting
1 new from $39.95
Free shipping
as of September 18, 2019 1:19 am
Features
LIFETIME GUATANTEE -Warning- Be sure to make sure you are buying from only Hagestad when you add to cart. We proudly stand behind the quality of our wooden yarn bowl and will will fully refund your purchase with no questions asked, if unsatisfied.
BEST QUALITY - The entire surface of our bowls are expertly smoothened with a high gloss finish applied to the entire surface including the swirls and holes to prevent yarn from catching. Our bowls feature a curled slot that captures the yarn as you knit, allowing yarn to be steadily fed through the swirl while preventing tangles. The bowls also has two holes which are perfect for storing your knitting needles. Our bowls are engraved on the bottom to distiniguish our bowls from other sellers'
SIZE - Large - approximately 8" diameter x 4" height. can comfortably fit a 10 oz ball of yarn.
GREAT GIFT- Wonderful gift item. Comes in a gift ready box with a FREE travel pouch and 2 wooden crochet hooks of size K-10.5
These are some Bamboo Yarn Bowls that are all handmade wooden yarn bowls from Etsy. The thing about yarn bowls Etsy makes is that they are handcrafted by the designers, these in particular using bamboo and they are each individually unique and they come in different sizes so you have your choices. They are all smooth with no burs that will catch and snag your yarn. You can knit with confidence.
(You Can find These and many other bamboo yarn bowls in a search on Etsy.com)
 Bamboo Yarn Bowl Yarn Bowl made from Bamboo wood Beautiful bamboo yarn bowls
&
Same purpose as any other yarn bowl. But these are completely adorable and also made with the same quality and each one unique.  The quality and craftsmen is unique to the folks over at Etsy, The details of each item is very intense. You know exactly what you are looking for and the range in price really gives you a choice you can live with.
These are remarkable pieces of art and yet they are yarn bowls for the craft we all love to do and they serve such a valuable purpose of keeping your yarn untangled. I love it!! Go ahead you know you love them.
(Each of these yarn bowls are available along with many others. Have a Look  at Etsy.com.)
Fox Yarn Bowl, Knitting Bowl
Yarn Bowl – Pottery Yarn Bowl – Rustic Brown
Piggy Yarn Bowl
Dolphin Yarn Bowl – Knitting Bowl
Pet portrait yarn bowl
Mice yarn bowl
&
For The Cat Loving Knitter
Wooden Extra Large Yarn Bowl 7 Inches. Circular Needles, Thick Cotton, Chunky Wool Baby Yarn Ball Holder Stand. Crocheting Accessories Crochet Hooks Craft Storage Project Kit. Adult Knitpicks
1 new from $39.95
1 used from $ 29.95
Free shipping
as of September 18, 2019 1:19 am
Features
Great DEEP WIDE round embroidery thread KEEPER. Unique MULTIPLE bobbin valet stand. Holes for loom hook. Cute PORTABLE TRAVEL giant skein carrier. Bag, basket, tote, caddy, organizer size. You can knit wherever and whenever you choose. Heres a quick way to SAVE TIME and MONEY by holding everything in one place
ELEGANT UNBREAKABLE ERGONOMIC big protector. MORE USEFUL than ceramic, plastic. Funny THANK YOU organization idea for her, women who have everything, best mom, wife, sister, daughter, godmother, teacher. NOW YOU CAN HAVE the perfect combination of SOLID and LIGHTWEIGHT
Mother, Grandma, knitter enthusiast, hobby lover, grammy, girlfriend cool craft 5th wedding anniversary, Happy Birthday, retirement, graduation PRESENT. Accesorio para mujer. Comfortable for simple and easy knitting. Will SERVE you for a LONG TIME Just read our AMAZING REVIEWS
For baby blue merino, sugar cream, green, gray, peach silk, pink, rainbow, red, neon, yellow, white alpaca, orange mohair, super bulky purple cashmere, thick wool, acrylic macrame cord, chunky cotton. Looks more EXPENSIVE than it costs
Nice set to stitch marker complete, loc set, small fabric scissors, counter, adult pattern book, beginner starter supply, tool, drop spindle, circular swift, winder, ball spinner, mini sewing machine. If for any reason you are not entirely happy with your purchase we will replace or refund your order, no questions asked. CONTACT US right away if you experience any problems
Take A Look At This
More Beautiful Yarn Bowls For Knitting On eBay
eBay Feeds for WordPress
by
Winwar Media
More Great Knitting Gifts and Accessories All Knitters Will Love
Best Gifts For Knitters -Make A Knitter You Care About Really Happy
&
Haven't Found What You Were Looking for? Search Again Here:
Use Our Free Gift Finding Tool Below: